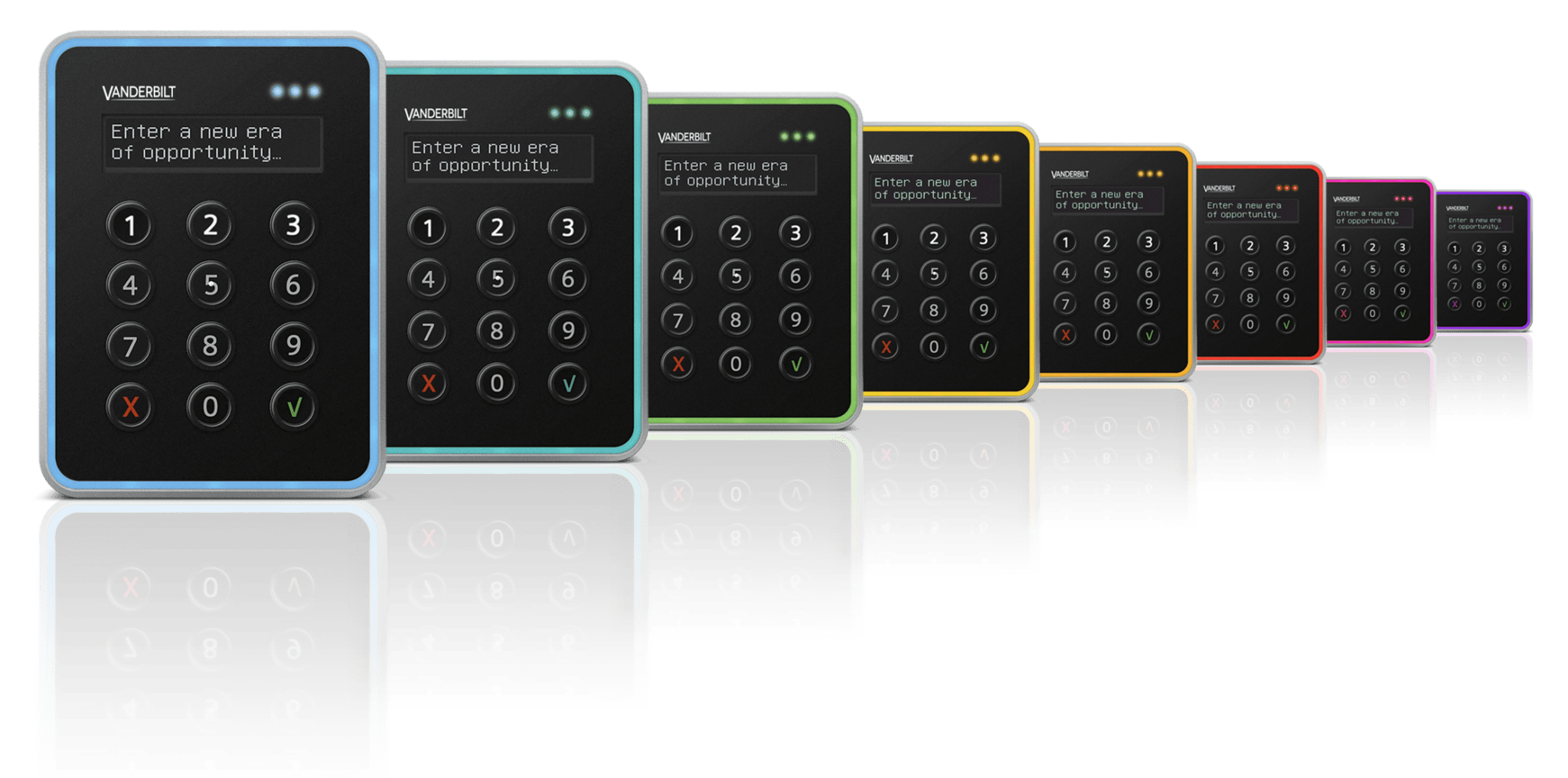 OSDP Converter for VR40 and VR10 readers
The SPC OSDP Converter for VR readers provides compatibly for the VR10S-MF Smart Card 13.56 MHz and VR40S-MF Smart Card 13.56 MHz readers with the SPC intrusion system. The mobile can be inserted into the SPCA210, SPCP432 or SPCP433 SPC expanders.  For compatibility, the SPC must be configured to use the Override LED option and the reader profile ARX61XX must be selected.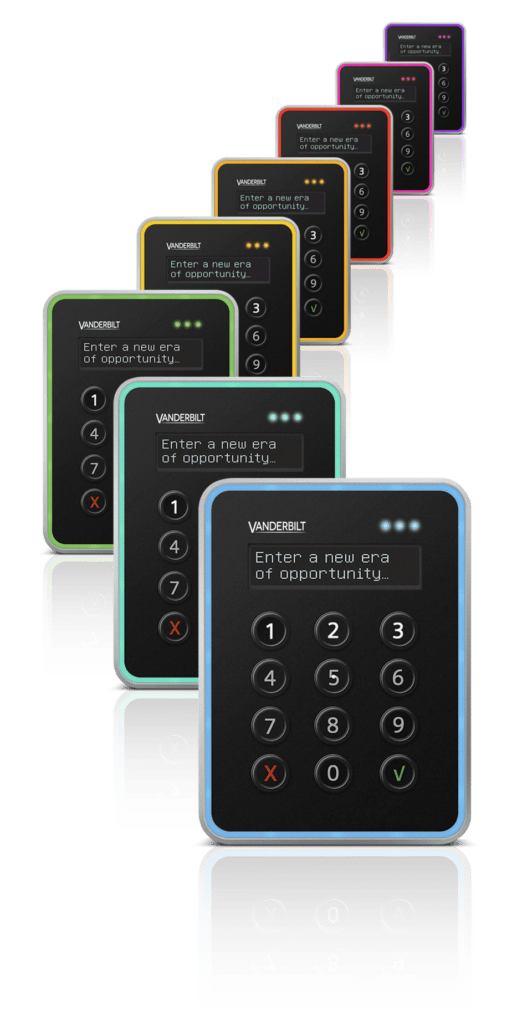 Multi Lingual
The interface module supports various languages and by selecting the onboard switches languages can be selected including
English
Dutch
German
Norwegian
Finish
French
Danish
Spanish
Italian
Using the customer's language will give a clear indication of the status of the door and for arming control.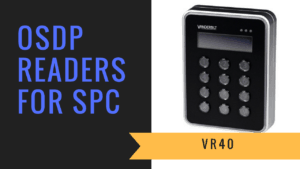 Learn more
Watch our overview of how the OSDP interface can operate with the SPC system.
Wiring and Configuration
SPC Configuration
To Configure the OSDP converter the reader profile must be set to "AR618X", this is configured through the web page Configuration->Hardware->xbus->Door Controllers->[door]->reader profile.
Arming requires the use of the Setting prefix option
Program:                                         DIP1 DIP2 DIP3 DIP4
OSDP to Wiegand - Text: EN    Off  Off  Off  Off 
OSDP to Wiegand - Text: DK    On   Off  Off  Off
OSDP to Wiegand - Text: SE    Off  On   Off  Off 
OSDP to Wiegand - Text: NO    On   On   Off  Off
OSDP to Wiegand - Text: FI     Off  Off  On   Off
OSDP to Wiegand - Text: FR   On   Off  On   Off 
OSDP to Wiegand - Text: DE   Off  On   On   Off 
OSDP to Wiegand - Text: ES  Off  On   On   Off 
OSDP to Wiegand - Text: NL    Off Off  Off  On 
OSDP to Wiegand - Text: IT   On Off  Off  On 
 OSDP to Wiegand - LEDs only       On   On   On   On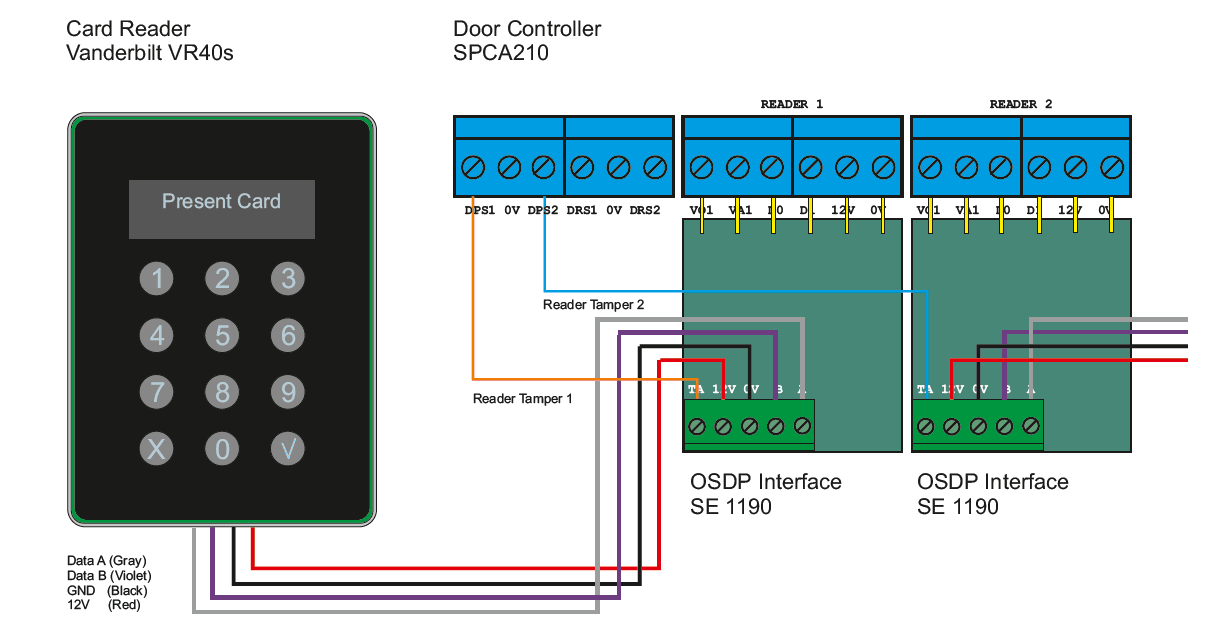 Order information
Order number
V54544-A103-A100   SPCA210 + VR40 + SPC VR OSDP converter
Order number
V54544-A104-A100 SPCP432 + VR40 + SPC VR OSDP converter
Order number
V54544-A105-A100 SPCP433 + VR40 + SPC VR OSDP converter
Order number
V54544-A106-A100 SPCA210 + VR10 + SPC VR OSDP converter
Order number
V54544-A107-A100 SPCP432 + VR10 + SPC VR OSDP converter
Order number
V54544-A109-A100 SPCP433 + VR40 x 2 + SPC OSDP converter x2
You may also be interested in