Access control expansion modules
Adding door controllers to an SPC system will allow users of the system to have access control functionality with there intrusion system. The SPC can support up to 2,500 users and up to 60 doors. The user's structure of SPC allows for a flexible definition of user rights across multiple areas, the same logic and process apply to access users. Any user on the SPC system can be assigned a card and the rights to door access are defined by up to 5 profiles, this means that users can have high configurable rights and yet for single system, the setup can be achieved quickly and effectively.
The door on SPC provides a range of functionality including
Anti Passback
Escort
Extended time
interlocking
Time-locking
and much more
The Key to the success of the SPC system is that the access element of the system can be used to control the intrusion engine, meaning the system can be armed externally/internally or disarmed.



SPCA210.100
The SPCA210.100 2-door expander extends the SPC controller with advanced door control functionality for 2 entry doors or 1 entry/exit door. The device features 2 Wiegand/Clock&Data interfaces, 4 LED control outputs (1 void / valid per reader), 4 zones (1 position- and 1 opening switch per door), 2 relay outputs (1 lock per door) and an onboard buzzer to signal "door open too long" events.To allow the greatest flexibility, the zones and outputs are freely programmable for other purposes if not used for door control. Up to 512 priority card holders can be stored on the expander for standalone operation in case of communication loss to the control panel. The expander comes in a plastic housing with front tamper protection and features also an X-BUS status LED and onboard buzzer for easy device identification and extensive self-diagnostic capabilities. Vanderbilt part code V54547-A101-A100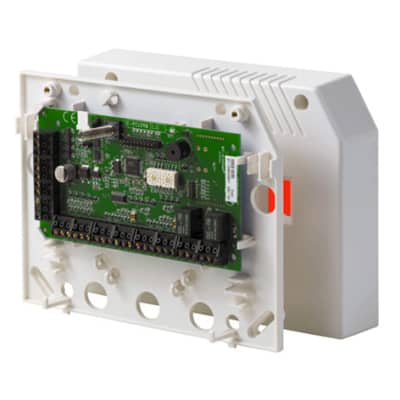 SPCP432.300
Smart PSU with 2-door expander, G2-housing
The SPCP432.300 smart power supply expander (PSU) extends the SPC system via X-BUS with a monitored 12 VDC local power source for battery management and connected security devices (e.g. expanders) and advanced door control functionality for 2 entry doors or 1 entry/exit door. The PSU comes in a tamper-protected metal housing with space for an optional 7 Ah battery. Vanderbilt part code V54545-C103-A100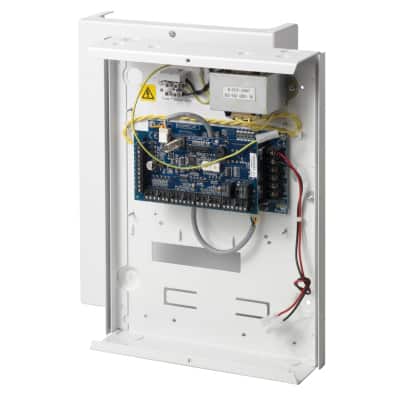 SPCP433.300
The SPCP433.300 smart power supply expander (PSU) extends the SPC system via X-BUS with a monitored 12 VDC local power source for battery management and connected security devices (e.g. expanders) and advanced door control functionality for 2 entry doors or 1 entry/exit door. The PSU comes in a tamper-protected hinged metal housing with space for an optional 17 Ah battery and 3 expanders. Vanderbilt part code V54545-C104-A100