Overview
Overview of how to create configuration file reports using the SPC Connect Pro software, the report will output the intruder and access elements of the system and allow you to apply your branding. These reports will provide detail on the setup and configuration of the system

Configuration report, brand and detail your installation
Overview of how to create reports on SPC Connect Pro these reports will allow you to print out an overview of the entire system, user report. The method used allows you to customize the output of the report by adding your own branding.
What does the report contain?
Overview of system
Users
User Profiles
Doors
Zones
Communications
Xbus
Overview
Identification
Name and The ID of system, date of installation, date of the report.
Overview
This is a report summary providing a summary of the total elements on the system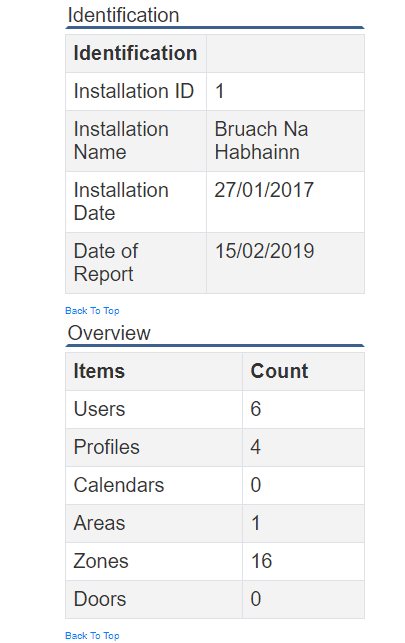 Users summary
This provides a list of all users on the system and what profiles that have been assigned the report will also detail if the user has a card number, which card attributes have been assigned, the language  and if a date limit is in effect

User Profiles summary
User profiles define what intrusion and access rights a user has on the SPC system, this section of the report will detail which areas and what rights are allowed by this profile.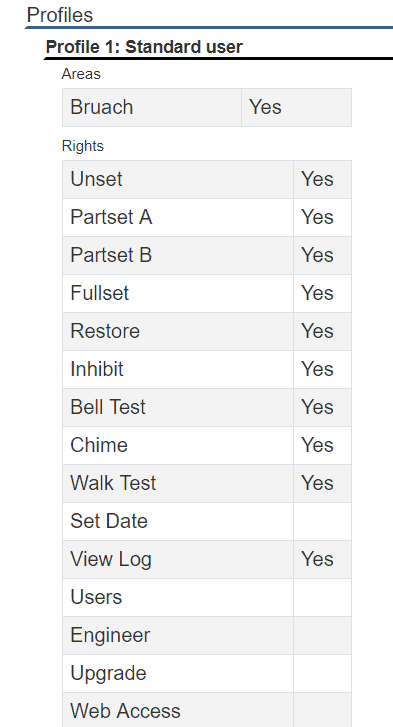 Doors summary
The Doors summary will provide a summary of the door configuration including
ID
Name
Access Granted
Access Denied
Door Open
Door Left Open
Extended
Escort
Door Locked
Door Unlocked
Group
Attributes

Zones summary
The Zones summary will provide a summary of the zone configuration including
ID
Name
Zone Type
Tech Delay
Area
Key arm Function
Attributes
This will detail all the attributes enabled to the zones

Areas summary
The Areas summary will provide a summary of the area configuration including
Name
Force Set Mode
RF Output Time
AOK Action
AOK Time
Auto-Set Limit
Auto Set Interval
Auto Set Warning
Exit Time
Entry Time 2
Entry Time 1
Attributes
Attributes
This will detail all the attributes enabled to the Areas

Hardware and Xbus summary

Branding
As the report is built using HTML you can dynamically change the branding to include your logo, the easiest and simplest method is to replace the Vanderbilt logo in the SPC Connect Pro folder this is located at "C:/SPC Products/SPC Connect Pro/Logos". If you wish to you can update the style sheets and report itself, if you want to do this please create a custom report and place the location of your custom report in the settings of SPC Connect Pro